Although common to wear to the gym, ponytail hairstyles can be worn in any type of occasion.
When thinking about ponytail hairstyles you may think about school, working out or the gym, but the truth is that ponytails have come such a long way that they have actually also become a common look on red carpet events like the Emmys or even the Oscars.

Not only are they an easy and cute look for both long and mid length hair.
But ponytail hairstyles are so versatile that you are not going to believe how many different occasions you can cover with this simple hairstyle.
You can style your ponytail hairstyles for an elegant event or a night out with friends or use it just to take the hair away from your face.
Anyway you are going to look good with what you choose to do.
Throw in something like a braid into de mix to soften a strong or harsh outfit, like a suit or to match a feminine dress you've been dying to wear.
The best thing about ponytail hairstyles is that they are not only versatile when talking about ways to style them but they are one of the only hairstyles that can look amazing with any hair textures son you are covered if you are thinking on trying ponytail hairstyles.
Ponytail hairstyles for women
As we have said before, ponytail hairstyles were once reserved for the gym or when some handiwork was due to be done, either painting or cleaning your house or even to move the hair away from your face while you are doing something and it is annoying you.
But now, ponytails have taken a one eighty turn and can be much more than just practical; they can also be cute and sexy!

Taking the strands away from your face but letting the length of the hair hang free and relaxed will give you a young but polished look quite easily.
Not only that but ponytail hairstyles can be adapted to any hair type or texture; long, short, fine, thick, straight, curly or wavy, it does not matter this look is amazing for you.

Ponytail hairstyles are convenient, quick and easy to create and wear, although you need to be careful as they can be harmful to your hair is you do not take the time to pay attention to what you are doing and making sure you do not:
Tie your ponytail too tight, it can cause breakage.
Use a thin hair tie.
Wear a ponytail to sleep, it is better if you wear a braid or even if you wrap your hair up.
What you can do is follow this to make sure you do not damage your hair:
Use a satin scrunchie or a no-metal thick hair band.
If you are a regular ponytail hairstyles user, then try to change the positions of the ponytails – low, side, high – to avoid tension and hair breakage.
Give some rest to your hair by letting it hang loose and free every once in a while.
Two ponytails to make your hair seem longer
Make your hair seem longer without needing hair extensions, you can create this optical illusion with two vertical ponytails one on top of the other in order for them to make your hair seem longer.
To create this look all you are going to need is to divide your hair into two halves at the height of your ears, or your preferred height.
Once you have separated your hair you should tie your hair in a tail with the upper half and repeat this step with the lower half.

Then, make sure the top ponytail covers the one on the lower side in order to maintain the optical illusion of your hair being much longer and flowing that what it would normally look with a basic ponytail.
Ponytail hairstyles with braids
Ponytail hairstyles with braids can be used with anything and for any occasion.
You can wear them from and everyday look, to a simple night going out with your friends or even lo a formal event like a friend or familiar's wedding.
We are not even joking, there really are braids, tails and looks for every hair type and every occasion, and there are plenty of ways you can incorporate the braids into the ponytail hairstyles.

Either because you are bored of the old ponytail hairstyles look, or because you want to add a little something to your ponytail you are going to love all the looks we are going to show you up ahead, so you are able to pick the one you like more or the one that fits bets the occasion.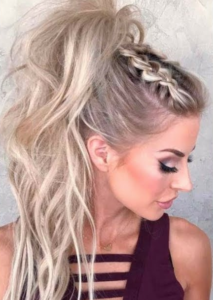 French, fishtail, Dutch, even a 4-stranded braid or even a couple of thin regular braids are just some of the braids you can add to the look you are looking to achieve.
Loose large braid with a high ponytail
This ponytail hairstyle with braids is definitely what you need to be in charge and for people to know it!
Do not think about a braided bangs and step up you game with a big French or Dutch braid ending in a high ponytail.

This will definitely give a focal point to your look as well as making you stand out in comparison of the simple ponytail hairstyles.
Another thing you can achieve with braids in a look is trying out looks that you wouldn't try otherwise, like a Mohawk.

You can create a faux Mohawk with a voluminous braid at the top of your head and then tie your hair up in a high ponytail.
Helpful tip: You can tease the roots in the front of the braid in order for you to get the height and volume you are going to need.
Messy ponytail with side braid
If you are looking for ponytail hairstyles that have plenty of style and are still filled with surprises, then this look is the one for you.

If a braid on its own looks great and even romantic, you can balance the romance out with a messy ponytail to add an edgy look without going too much to either extreme.
You can decide to let the braid reach till the ponytail or let it hang loose with the rest of the hair.
These ponytail hairstyles can look great with any type of braid, and hair type but if you have highlights on your hair you can really make the braid stand out, this does not only add dimension and movement to the look but also depth to the braid as the different.

Half braid ponytail look
This specific ponytail hairstyle with braids is not quite like the rest, this one consists on a braid make with the hair that had been tied up in the tail.
It is a great way for you to spice up things without much of a try.

This helps a lot if you want something simple and quick to do for the go as well as being original and letting some space for imagination.
The best part about this whole look is that if you make the ponytail and the braid a little bit messy because you are in a hurry it can actually add to the look, giving it that planned messy look that so many people love!
Messy ponytail hairstyles
We have to admit that this look is one of our favorite ponytail hairstyles, not only because it is fashionable and works great with so many situation, but also because it is super easy to achieve.
Which explains its popularity in the modern world, with so many situations you have no idea where you could see the next messy ponytail hairstyles.

You can place the messy ponytail anywhere you want it, it can be on the sides or even a high or low, the most important part here is that you have fun deciding what to do with your hair and that you feel good once you have a finished look.

Furthermore, our favorite feature of this look is that it looks great with any type of hair, it does not matter if you have curly, coyly, straight or wavy hair, you can look amazing with this look.
Basic messy ponytail
This look is the easiest messy ponytail hairstyles to achieve that you are going to find.
Quite literally, all you need to do is pick up your hair, brush it back with your fingers and then tie the ponytail and voilá, you have a beautiful look that works for a variety of occasions.

Either because you are running late to work, or because you are just simply lazy to take a lot of time to make a hair look then this is the perfect ponytail hairstyle you have been looking for, no joke you are going to have it ready in less than a minute.
If you want to make the ponytail even messier then just pull out some strands of hair so they hang loose and frame your face.
Ponytail hairstyles with bangs
Bangs are another very versatile hair look, you can seem like the cutest person ever one seconds and like a brave and gorgeous queen the next.
They also work for every single occasion.
You can start your day at work and move straight into a date at night and they will perfectly fit in any scenario.

The best part about then is that it does not really take too much time once you get the hang of styling them.
Messy ponytail with framing bangs
You can do a messy ponytail leaving some bang strands framing your face.
The most common way to do this specific hairstyle is by leaving just two strands coming from the top of your hairline.

You can also just leave your bangs out if you already have them, and then leaving two longer hair strands out at the sides of your face in order to frame it.
This look can also be achieved with a perfect ponytail, but we believe that the messy ponytail fits better with the loose strands left to frame your face.
High ponytail with blunt bangs
This look is perfect for a day that you have plenty of things to do but you still want to look cute and fashionable.
Keeping the hair away from your eyes and face while you do your work, allowing you to do everything without any problem or annoyance from your hair.

To style this look further you can curl your hair, add some braids like we have talked before.
Ponytail hairstyles for girls
Placing a ponytail on our little one's head can sometime be a little tricky as they sometimes just can't stay still.
But we totally love to see them with a beautiful loon on their hair!

Ponytail hairstyles for girls are a great idea for your little angel to take to school or the playground, making sure that the hair will not be coming onto their faces while they are learning, painting, drawing or even when they are playing!
It is not a secret to anyone that girls love having their hair looking beautiful and neat, and it is no exception for all the small ones out there!
Take some extra time to create a beautiful look for your baby girl to make her feel beautiful and special, you are going to love the look on her face when she sees how good she looks.

The most important part for you to create a beautiful look for your little girl is to be creative and inspired and not let your little girl's hair go another day without it being a wonderful masterpiece.
Although that does not mean they have to take you more than some minutes.
High ponytail with braid
Braids are one of the easiest things you can add to your ponytail hairstyles, and this specific hairstyle mixes the beautiful and romantic look of a braid with the practicality of a ponytail!
It is also super easy to do, all you need to do is tie a high ponytail on your little girl's head and then start doing a ponytail, you can do any type of braid you think would look better, or maybe the one you feel comfortable by doing.

The important thing is that both you and your little girl can have fun and feel good with your ponytail hairstyles for girls.

Braid and ponytail
As we said before braids are a great idea for you to add to your baby girls hairstyles, and with this look all you need to add is a simple Dutch or French braid at the top of her head so it adds a little of dimension to the look.

Colorful and easy multi ponytail
For this look you are going to need multiple hair ties, preferably of different colors so you can have a colored look by the end.
This hairstyle is a little bit tricky if you do not know how to do it but here we are, to explain to you how to do it, just follow this simple steps:
Start with tying into a ponytail a little piece of your baby's head from the top of the head, next take one more section and tie it below the other ponytail, also taking the ponytail you did before.

You need to repeat this step until you are done tying all the hair.
Ponytail with a headband
Some ponytail hairstyles for girls are more difficult than others, and this one is definitely more difficult than some, so try to do it when you have extra time to make it or for a special occasion.
To achieve this beautiful look you need to split the hair into two, the part for the hairband and the rest for the ponytail.
Once you have parted the hair parallel to the hairline you should divide it into smaller sections for the headband.

Make the first ponytail tying it with a elastic, divide the hair into two and add it to the third ponytail (not the one next to it but the next).
Keep doing the last step until you have finished the headband, tie a pnoytail with the hair that it left untounched and you are done!
Ponytail hairstyles for men
Long hair has become a very popular look on men, but dealing with that much hair being lose all the time can become tricky.
But do not worry, you have plenty of options to take care of that!
And one of the easiest and more versatile are the ponytail hairstyles for men.

If you have taken good care of your hair it can make you look good and attractive, and if you apply any of the ponytail hairstyles for men they can make you look even more attractive, there is nothing a girl loves more than a guys with long hair and good looks.

Ponytail hairstyles for men are perfect for you, they take the hair away from your face and eyes without taking away the way your hair looks loose and flowing in the wind.
Mid length hair in ponytail
This look is pretty simple and easy to achieve; some may even call it a messy ponytail hairstyle.
All you have to do is gather all your hair back and secure it with a ponytail, do not worry if there are some strands that stay loose, this actually adds up to the look.

Just tuck them behind your ears and they will not bother you.
Curly ponytail (pineapple ponytail)
There's nothing better than curly hair when looking for movement and texture.
It is true, sometimes is can be unruly and messy but that does not mean that it can't be tamed into a good looking ponytail on top of the head.

The reason this hairstyle it is called pineapple it is because sometimes the hair on top of the head may look like a pineapple fruit; Do not let that get scared or move for trying this look we assure you that you are going to look great with it.
Shaved sides ponytail
A lot of looks for men have this variation, and that does not mean that ponytails are the exception.
This shaved or closely cropped on the sides look can give you and edgier and more original look than just a simple ponytail.
It is perfect for you to try it if you had an undercut and are trying to let it grow and for you to take it to the next level.

If you really like this ponytail hairstyle but are not willing to cut your hair, then we have the perfect solution for you.
Just divide your hair at the height you would have your undercut and tie the top part in a ponytail.

The bottom part, or the undercut part, you should braid.
You can do the type of braid you feel more comfortable in, or you can ask a friend to do it for you but the idea is to make it seem as if you had an undercut without really having one.
Straight and tight ponytail
This look is perfect if you have super straight hair or are willing to straighten it to achieve this ponytail hairstyle for men.
Just take your straight hair and secure it into a tight ponytail at the back of your head to achieve this look to make you look great and handsome.

Be patient, getting a perfect look can take some time if you are a beginner.
Ponytail with braids
If you feel comfortable enough with braids, then you can take a leap and do this amazing ponytail with braids before it.
You can decide how many braids you do, or with what technique you do them.

Thanks for reading! Do not forget to keep reading our posts and if you liked it, make sure to share with your friends and family to let them know how to have the best results when they have a change of look.
¡Por cierto! Antes de que te vayas, queremos recomendarte esto que seguro que te interesa:
Son una serie de contenidos a parte del que has leído que puede ser interesante para tí ¡Muchas gracias por leernos!