As we know the 80's hairstyles was a decade totally known for its style. At this time, fashion was totally crazy, fun, big, bold, and super wild!! And hairstyles were no different.
The thing is that 80's looks are officially back in fashion ladies!! From metallics and colored tights to bold shoulders!!
Its important to remind that, this was a great decade for hair so, if you are going to try fashion of the 80's, obviously you should match these amazing hairstyles too!
It is impossible to forget the curly queens of the 80's like Donna Summer, Julia Roberts and the extravagant Cher.
Or the while straight-haired rock stars like Cindy Lauper and Stevie Nicks. This decade was all about volume, glam, and of course Rock 'n' roll.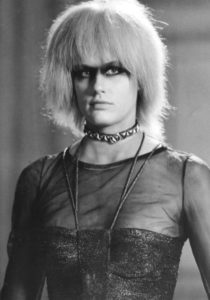 So if you wanted to look trendy you had to dye your hair, use pixie cuts and teased and ironed your hair a lot!!
So, do you love the punky, flashy look that predominated the 80's? Or are you going to a themed party about this decade and need an amazing hairstyle to kill the dancefloor?
Well, don't worry, getting that wonderful style is easier than you think, what do you really need are a few hair accessories and a bright eye makeup, so, let's do this!!
If we want to talk about the 80's its impossible not to mention those artists who influenced many people all over the world.
Who influenced many people with their amazing styles.

When we talk about the eighties it is inevitable to speak about those who imposed the most remembered tendencies of one the best decades of all times.
Although there were many stylists who created their own hairstyles in the eighties and modified different styles.
We cannot forget that those who had the ability to influence many women and men with different styles were the artists of that time, who surprised us with their talent.
They captivated us with their styles of dressing and of course! With the hairstyles they wore in those days.
Today too many film artist, singers an TV program stars are remembered who made their hairstyles a style that everyone wanted to have.
Regardless of how old their fans were somehow managed to contribute to the different styles that all they wanted to wear at that time.
We know that you will love that we talk a little more about these artists and how their crazy styles managed to mark a generation.
Nowadays they are remembered as if we were still enjoying everything that is unforgettable, gave us as beautiful memories saved in the best box of gifts.
Fabulous 80's Hairstyles
There is no way of speaking about the 80's and not to talk about Cindy Lauper and her fabulous hairstyles.

Which were completely representatives of this amazing and spontaneous age.
If we mention her name, Cindy Lauper is obviously one of the most remembered fashion icons of the eighties.
Not only for her amazing and emotional songs but also their style and personality.
When we talk about their fashion influence we need to talk about her crazy hairstyles and also her psychedelic dyed hair with many colors we can remember easily.
Because they are not natural as other dyed hair.
Many women in the world who belong to this age can be agree about this argument because they know how her influence changed their lives too.

It's a fact that Cindy Lauper through her music videos tried to focus their fans eyes in her way of dressing and the accessories and hairstyles which joined it.
Her hairstyles consisted of very varied styles, risky with a style attached to punk and rock, two representative musical styles of the time.
Many of them consisted in combing her hair upwards making the hair look pointed.
Most of the time, the last hairstyle we mention would be remember as one of the most iconic hairstyles of this era and the world of music in general. 
Whitney Houston
Whitney Houston was one of the most stunning stars of the 80's and her hairstyles were a way of being fabulous during the decade.
Would you like to remember her amazing style?

No one can deny that Whitney Houston is one of the most iconic stars of the music of all times.
Everybody can remember with so much emotion her polemic life and also her fantastic songs.
However, there are many things for which she can be remembered, one of them are the hairstyles she used to wear.
We can mention many styles she showed us through hair music videos.
In videos as "I wanna dance with somebody (who loves me)" she could involve us with her beautiful smile, amazing voice, and beautiful curled hairstyle.
Actually, this hairstyle was so much loved because the curls in company of the permanent style made of this iconic style one of the most wanted hairstyles of the eighties.
In the other hand, we can also remember the up do hairstyles with curls she used to wear.
This type of style added a lot of dynamism and personality to many girls' hair all over the world through the influence of this amazing music star.
Who made many beautiful women look amazing and according to this tendency which mark this era forever.
Another great artist of 80's Hairstyles
Another great artist of the decade with a great influence thanks to her great style, you can take so much inspiration from her.
Another great artist of the decade with a great influence not only in music but with great styles as well, you can take so much inspiration from her.

Tina turner being one of the greatest artists of the decade. Being still heard till this days and remembered with so much love and admiration.
She worked with so many artists such like Michael Jackson, Prince, Madonna as well as her well known friend David Bowie.
With this she matched the fluidity of the 80's decade. Actually, the Tina most of us know and love is the one from the year of 1984.
A great tempest blowing through pop but with a great relationship with rock in her old times making its way towards her biography and overshadowing it.
Her singularity as an artist is completely undeniable, she merged sound and movement capturing the attention of the world not only with her music but also with her fashion.
And style. From her spiky and lioness-like mane that put her in the spotlight that would only get better and stronger with age.
Now in the eighties Tina went though some hard times and came back emerging as a strong and independent woman by rebranding herself.

As a solo and becoming an act at the top of the charts, all of this while wearing a spiky and voluminous look that we all know and love from the time.
Her voluminous was actually pretty big statement of texture and volume, becoming in a truly iconic hairstyle.
Meant to be worn wild and rebellious, meaning that everyone was able to wear such a wild look without any fear as they took on this beautiful looking 80's hairstyle.
Memorable 80's Hairstyles for women with long hair
Okay, having a long hair on the 80's was amazing because that means that you can do whatever you want on your hair.
From extravagant messy ponytails to the crazy perm, so great!! But why? Why was so amazing to have long hair in this decade?
To answer that, remember that 80's was about rock 'n' roll, wild life, party hard and all of that, even men used to have the perm!!
So, we bring these amazing 80's hairstyles that you can try for your themed party!
The Most Popular 80's Hairstyles: The Big Perm 80's Hair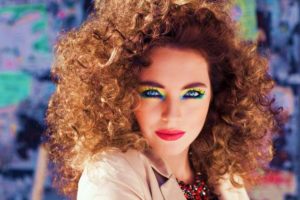 This was one of every girl favorites look for long hair in the 80's, the thing is that, is a really easy hairstyle to do.
You have to wash your hair and air – dry or blow – dry just long enough to leave it damp. Use a generous amount of mousse spraying it in your palm and rub your hands together.
Then, work the mousse through your hair paying extra attention to your roots!
Now you have to turn your hairdryer to the warm setting, then, flip over your moussed hair and finish it drying it in this position.
The idea here is to achieve maximum body. Grab a two-inch-wide section of your hair and lift it straight up!
Then, with your other hand, grab a comb or a round brush and tease your hair, gently.
Don't do it vigorously or your hair can get tangled! Continue this all over the crown area of your head!
To add some texture, you can crimp multiple areas like two – inch strips of hair randomly throughout your entire head.
Then take one of these locks and lift it away from your scalp in the opposite direction of where it normally grows!
For this effect of random strips of crimped hair lifting up from your head, you have to choose at least three locks of hair to crimp in the back.

To curl your bangs, you have to split it into two horizontal sections, lift the top and curl it away from your forehead and to the side to create sideways.
This is to have the characteristic curl of the 80's hairstyles. Grab the bottom section of bangs and curl it towards your forehead for a round front bangs.
To add the popular "80's wings" to your hair, you have to take locks of hair on either side of your face and curling them back.
To finish this amazing hairstyle, use your fingers to fluff your hair or tease sections that need extra body.
Then, take the hairspray and spry it generously all over your hair, lift up your hair and apply hairspray underneath and towards your roots!
You don't have to worry about applying too much hairspray, the 80's look was stiff, sprayed, sponged, big hair!!
The messy side ponytail

Oh my God! This was one of the simplest and favorites 80's hairstyles ever!! Every girl with medium to long hair can achieve this look.
This pony had a few different incarnations, depending on where you place this on your head.
Style your hair with this look is extremely simple, just grab your hair as if you are preparing a normal ponytail and then brush it to the side.
The higher the ponytail and the bigger the scrunchie, the better this hairstyle will look!
The final touch is to use a big and colorful scrunchie to hold the ponytail in place! If you have bangs, tease it to their fullest for add a punch of 80's playfulness!
One of the celebrities on this decade use to style her hair this way!! That was Madonna! She really knows how to use a messy punky side ponytail with attitude!!

The Iconic of the 80's: Big Bangs
Another thing that were an essential part of this decade were the bangs, it was all about the bangs!! If you have the bigger and the craziest one, totally better!!

To achieve this wild and amazing hairstyle, you have to tease your bangs to the max level, either straight up.
Then, spraying a lot of maximum hold hairspray as you can, all over your bangs!!
Remember that give your hair a good washing at the end of the day to wash away the hairspray smell.
Here's the thing, when you sport this hairstyle, you must keep in mind all the attention that should be on your hair.
Not your clothes because for once, you can just tone down the wild clothing!
This style looks amazing with a simple, solid colored t-shirt or blouse, slacks or jeans and basic makeup and jewelry!

One of the most popular: 80's Crimped Hair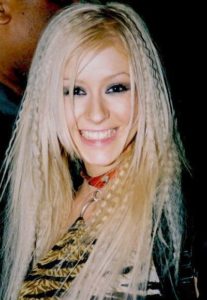 If you are feeling the 80's vibes, you have to try this amazing and popular hairstyle which is incredibly easy to do on your hair!! If you have it long, better!
There exist two ways to achieve this look, if you have time you can get crimps by braiding your hair into little or tiny braids and sleeping on them all night.
So, when you take the braids out in the morning, you will have an instant hair full of crimps!!  So, you can just spray and go!!

Another way to do this hairstyle if you don't want to sleep on a head full of little braids, you can get the look with any curling or flat iron set to maximum heat.

You can simply get the crimps by closing the iron on your hair and then in a wave like motion moving down the lock of hair to create crimps throughout.

So, if you are really into these vibes and you want to do this hairstyle often just like Christina Aguilera or Britney Spears on that decade.
You can buy a crimping iron for quicker and more polished looking crimps. You can do it all over your hair or in some locks of hair!!

This hairstyle matches a lot with long flowing dresses with bold, floral prints or patterns. This look was considered sensuous but sweet wild child of the 80's.
Memorable 80's hairstyle for medium length hair
The Popular and Amazing Flashdance Hairstyle.
Let's be clear, who didn't want to be Jennifer Beals in the 80's? I mean, she was an icon of the decade.
Every girl wanted to dress up like her almost every day and dance the famous song Maniac using leg warmers, leotards from the amazing and unforgettable movie "Flashdance".

Some girls from that decade said that the 80's were at the top of their lists, so this movie and this woman has had a huge influence on their life!
All the girls wanted to get that haircut, it was emblematic!! For Beals the look came naturally. For the rest of us, there were the perms and body waves!
So, has Flashdance ever influenced your style? If the answer is no but you are into these vibes or going to a themed 80's party.
We have an easy way to achieve this wonderful and amazing hairstyle and the best part is that you don't need a perm!!

The only thing you must do is to wash your hair before bed, when its almost dry but still wet, grab a section and start twisting the lock all the way down.
The size of the lock of hair will determine not only the size of the curls but also their direction.
If you want them out of your face, make sure your hair is not too wet otherwise it will no dry on time.

Twist the hair into mini buns and use bobby pins to secure it until your whole hair is done! Then go to sleep and when you wake up, carefully unwind all the buns.
Use your fingers to pull apart and separate the curls. Don't ever use a brush because this will make you hair frizzy!!

Memorable 80's hairstyle for women with short hair
The Famous Madonna's Wrap Up.
Nowadays, the wrap up is the ultimate updo styling tool! You can create top knots, low buns, faux bobs, faux bangs.
Really anything you want because this is a flexible, moldable hairstyle and you can use it for everything.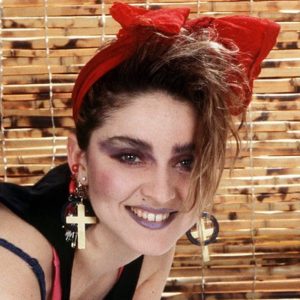 In the 80's Madonna was the queen of this amazing, slightly, punky and beautiful hairstyle.
Because she used to combine this teased chignon finished off with a thick piece of fabric tied into a loose bow.
Those days delivered all the sexy texture they craved as teenagers with a new punky badass way to wear the bows.

80's Hairstyles Accesories
Must-have accessories to recreate 80's hairstyles.
Let's be clear, accessories are an important part of every girl's day-to-day life.
To achieve some of these amazing 80's hairstyles that you already read, make sure to get many accessories as you desire, and your pocket can afford.
If you want to recreate an 80's hairstyle accordingly, you must have hair accessories, there are as important as the hairspray in a hairstyle, so, really important!
Don't worry about this, surely your mother should keep a lot of this things, or at least can tell you where you can find it!!
Bandanas, there are a must-have accessory that you need if you want to recreate an 80's hairstyle, Madonna use to used it a lot!!
You can see it in their famous hairstyle Madonna's Wrap Up, and Cindy Lauper!
The thing with the bandanas is not only that you can use it on your hair but also you can use it on your neck or any other part and have a look of the 80's!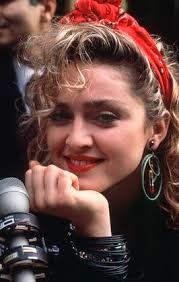 Scrunchies, oh my god these amazing, colorful, and crazy hair ties that left a mark on the 80's hairstyles.
Every women had scrunchies, even your mom had it!
It is technically impossible to talk about this decade without mention this unique accessory which was like a fundamental part of the style of that age!!
So, if you are going to a themed 80's party and your mom has one of this, just use it, please, do it!!

Beyond the velvet and the sequins this amazing accessory is being wore at this age!
The thing is that, they are made with a beautiful, vintage, Italian fabric which grab the hair in low ponytails covering the ears and let the body of the tail down behind the shoulders.
It is impossible not to see one of these wonderful accessories in any fashion store. And how not?
I mean, this accessory was a part of a generation, you can saw it on many tv shows hairstyles on the 80's like "Save by the bell", "Clarissa explains it all"
And one of the most popular tv shows, "Full house". Even on Instagram you can find an account called "Scrunchies of Instagram".
So, this is a totally must have if you want an 80's hairstyle!!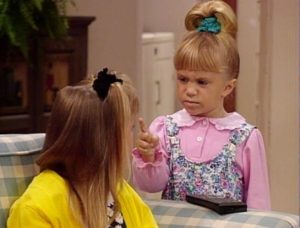 Now, we must talk about the banana clips!
The name of this brilliant and simple accessory is given for its shape, this was a popular accessory on the 80's.
Because it allowed you to pull your hair back from each side of your head with the clip, all of this following the contour of your head in the back part.
As if 80's hair wasn't insane enough on its own, the banana clip came to add that little extra something to take this decade out!!

It is almost impossible that you don't have any idea or any clue of this accessory, I mean…
Nowadays, it is using to create several hairstyles like classy ponytails, curly updos, even a 3-D braid. So, I can sure you that you have one on your accessories!!
If you don't know how to recognize one or what are we talking about here, there's the pic!!

80's Hairstyles Little girls
Little girls were on trendy in this famous and spontaneous decade too.
In the 80's decade, young ladies wore a different variety of hairstyles that some mothers still replicate on their little princess in the present time.
But some have the chance to play a little more with their hair.
We have to remember that the 80's was a decade to discover a lot of things and styles which at the beginning of that age were really controversial.
But now are totally normal for us. So, normally the little girls use to wear some hairstyles inspired on the 50's that were still predominated on the 80's decade!
For example, we have the Pulled Back with Ribbon Barrettes.

Some people use to say that only suckers bought these barrettes, but the truth is that everyone wore them.
This was the innovative do it yourself hit of the time. So, little girls and even junior high schoolers churned them out to hang out with any outfit.
It is important to mention that there exists the less innocent form of this hairstyle called "tentacles of something hanging off the head", this was a phenom, it consist on attach a feathered roach clip in place of the innocent barrette.
This was very good for Hello Kitty because they sold these clips alongside, so, they made the trend and this accessory was convert into a must have accessory in elementary schools!
80's Hairstyles Curly side ponytails
A curly side ponytail for little girls to go to school!

This was one of the classic looks of this decade, it was wear from mothers to little girls, even more to go to school, it was a typical and easily to achieve look!!
This gorgeous and sponge look consists into grab all your hair and pull it up to make a high ponytail, of course, a side one, specifically above your ear.
All that comb hair must be full of spray and gel to make the curls last, as tousled the hair is as better will look because they give that sponged and fluffy look proper of the decade!!
The trendy 80's hairstyles
There's no way to talk about the 80's without talking about how men take out the trendy hairstyles out like women
There were a lot of men artists which their styles impact the fashion world in many ways, one of these ways was their amazing hairstyles on the decade.
We have to start talking about Michael Jackson, AKA: The king of pop! Everybody knows Michael Jackson, even the children of this generation.
Of course, he is still remembered not only for his inimitable dance moves and legendary music but also by his flashy style.
Since the 70's, this king of the music is inspired us with his wardrobe that outfitted his Jackson 5 days to the sequined ensembles.
Fedoras and glittery gloves that became the singer's signature into the 80's and beyond.
He was the major fashion presence in the music industry, not only for his amazing
wardrobe, but also by his amazing, glorious, and beautiful curly hair!

When It comes about the music scene of the 80's decade, music counted with a lot of bands and singers which helped a lot to set the iconic hair trends of the time.
That's why we can't stop talking about the amazing and spontaneous David Bowie!!

David Bowie was definitely a style icon from the 60's to his death. He was called "The King of self – invention".
That's why he always invented trends before anyone could predicted them and also redefined what it meant to be a popular and gorgeous rock star!
That ginger haired, snaggle toothed, pale, skinny lad… Definitely, there's no doubting that David Bowie was and will remain one of the most influential musicians of all time.
One that could constantly re-invent his style and his musical influence.

We have to remember how he change his fashion and hairstyle completely at this age, towards the end of the 70's and the beginning of the 80's.
Bowie turn his fashion style around to dressing like a gentleman!! Totally complete with three-piece suites, ties, shirts and of course, dapper shoes!
The best part and let's say, beauty of Bowie was the fact of he could merge so effortlessly between eras and styles without ever sacrificing any of his charm or personality.
And of course, we can't forget the make-up and the wild and dyed hair that make history on the musical world!!
We need to take a moment and talk about one of the greatest artist which was one of the best imposing his amazing and wonderful style.
80's Hairstyles The one and unique Prince!

I mean, who could pin down his contribution to style?
No matter if you were a boy or a girl, Prince just influenced your life! He didn't just leave behind a legacy of revolutionary groundbreaking music after his death.
Also, he left behind a legacy of incomparable, taboo – shattering, spontaneous, and unique style! When it comes about fashion.
This amazing singer was never afraid to go big, blur gender lines or flaunt his over – the – top sexuality!
That beautiful black curls, that spot, the feather boats and the high – necked ruffled skirt… My God! Prince was the king of all of these!

In the 80's decade, he challenged the stereotypes of what it meant to be black and male in the fashion industry.
While using heavy eyeliner, sky high heels and even pants that brazenly showed off his back.
Just like his heroes did before him, James Brown and Little Richard, Prince's legacy leaves behind a stylish influence in what it means to dress as a modern-day rock God!
Nowadays, you can see traces of his gender – blurring style today in celebrities like Kanye West and Harry Styles.
The Purple One look was always iconoclastic, never dull and ever colorful.
As you already see, the 80's was a decade that contributed a great deal to popular culture. Further the changes in music, the clothing style and even some hairstyles have survived through until today.
80's Hairstyles Men looks
That's why we are going to show you some of these gorgeous and amazing men looks!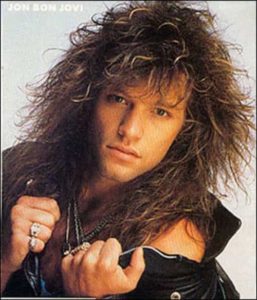 Men's hair in this decade became much bigger than any big size that we could ever seen before!
That's why this look called "Big Hair" was one of the most memorable things about this age, because everything was about of big hair!! Of course, this was influence for many stars.
So, many more regular working-class people chose to sponge and fluff their hair up and add volume to any style.
To achieve this amazing and iconic look they only have to tease their hair up and applying mousse or hairspray to hold the hair in place.
Even people with straight hair tended to wear this hairstyle in this fashion era.

Another popular and iconic hairstyle from the 80's that is actually coming back is "The mullet".
Some people defined this hairstyle like "business in front and party at the back" .
That's why because to achieve this look men had to us a hair cut short in front and on the sides while allowing the back grow long.
Not only artists like Billy Ray Cyrus use to wear the mullet also business men tended to wear it using a side part and shorter lengths on the top and sides.
Then pulling the longer hair back into a ponytail or thinning it out across the back of the neck.
It is crazy but this look is still alive at the present time, but just because something can be done it doesn't mean it should be done.

African American men use to be on the top of the fashion too! One popular and iconic hairstyle among them on this decade was known as the "Jheri Curl".
This hairstyle was made popular and really known thanks to the King of pop, Michael Jackson about the time his album thriller was released.
And he appeared wearing this hairstyle in the videos of these songs! Lionel Richie also wore this amazing look when he was the lead singer for the commodores!
Today this look is still in use, the only thing is that in this decade everything was about excess, so, occasionally people went overboard with this look.
The secret to wear this popular, iconic and unforgettable look today is to start with just a little and only add a bit at a time.

At that time another look that came out was the "Wet Look and Pompadour", that's why because on thing that this hairstyle brought to the forefront was the "wet look".
The thing with this look was likely this can have caught people's eyes and made them look interested in using pomade to make their hair shine as if wet, no matter if it was dry.
Elvis Presley used to wear this iconic and particular hairstyle.

There were also the hair-band hairstyles which were frizzy, large and lengthy styles!
They were very popular at that time among the men with the curly hair, as all they had to do was to use the gel or mousse to tomb the curls together.
And use the hair dryer to achieve the large look. Just think about Poison, Van Halen and Ratt.
Nowadays this 80's hairstyles is still being use by modern and regular men, even the youngest ones like this look, surfs tends to use it a lot!
For the amazing and greatness glory for us, the modern interpretation of this glam and iconic 80's hairstyles is a little bit subtler and even more subdued.
Just long, textured hair is the way to achieve it. Simple, just leave the teasing comb and hairspray or gel at home!

Then, the most punk and mother look became, and was one of the new and revolutionary 80's hairstyles for men at that age.
This was one of the most – seen spiky men's 80's hairstyles, and it was called "The mohawks". This kind of style was achieved on the following form…
The men's head was shaved on the sides but maintaining the long, spiked strip of hair down the center, these spiky strips can be dyed or left on his natural color.

They can also can be curled, straight, tall, or short. A plenty of gel tended to be used to make this look.
Many of the 80's stars wore this style on that decade making it unforgettable and remarkable.
That's why many celebrities are still using this 80's hairstyles, even regular men are wearing it. So, yes, it's incredibly easy and fun to get the 80s look that you want.
Don't be afraid to experiment and to try these amazing 80's hairstyles even the craziest of styles.
Watch 80s movies or music videos for more ideas, they are also pics and photos on the internet and the steps to achieve every look.
Above all, express yourself and have a good time, that is what this decade was about, remember that you only live once!
Thank you so much for reading this article, and we hope you enjoyed these 80's hairstyles as much as we did. If you liked it, make sure to share it with your family to make them have a good time remembering and your friends so they don't miss out on these incredible looks and can try out some of them.
¡Por cierto! Antes de que te vayas, queremos recomendarte esto que seguro que te interesa:
Son una serie de contenidos a parte del que has leído que puede ser interesante para tí ¡Muchas gracias por leernos!