At the present year, men hairstyles have experienced a change in its fashion; we could say they are considered more "retro" than modern due to their ancient air but still with a touch of originality.
No matter how you call it (trend, new, fashion) but what does is a fact is that hairstyles for men that were old before are new again now.
We can appreciate how toupees from the 50's and the 60's, the "undercuts" from the 80's and the "laissez-faire" hairstyles men from the 90's are back to stay and are being many men's choices.

Modern men stand for retro hairstyles
Societies seem to reinvent best old classic hairstyles for men over and over again, but how couldn't they?
Fashion for men has been here all along through years and in many cases deep-rooted fashions never get old or do not seem to dislike men from newer generations.
However, which hairstyle will be the one for each man it's up to them but we are lucky enough to have older men's hairstyles to get some inspiration.

Current men who have reached the trend of ancient hairstyles.
Some pioneers of men's fashion like Elvis Presley, James Dean, Cary Grant or Kurt Cobain have been source of inspiration for the rebirth of new hairstyles for men.
Thanks to them we could also say that a lot of men have found their true-selves look and personality.
Here we show you several hairstyles for men that have been inspired by older styles:
Hairstyle #1 Rockabilly pompadour

This particular hairstyle for men brings back the hairstyles from the 50's with longer amount of hair on top of the head but shorter on both sides of it.
The section of hair right on top must be brushed upwards to gain a larger bunch of hair and subsequently must be put backwards.
Here's a little trick for the hairstyle to gain more volume:
Make use of a hairdryer so the section of the hair on top would be as even as possible and also a bit of hair wax will help you to get the flexibility wished to get this hairstyle accurately performed.
One of the perks of wearing this man's hairstyle in special is that you can look incredible for more formal events, it'll provide you a sophisticate glamour.

Hairstyle #2 New sideways shaved
We are already knowers of the recently and pretty much used fade technique, it could be said that this one is alike or perhaps even a part of the hairstyle itself; it is done by a smooth shaving applied in both sideways of the head and leaving out the top part of the head in order to style it sideway.
This men's hairstyle is more alike to the "undercut" which, as it was mentioned before, was very popular back in the 80's but in a more old-fashioned way.

Trick for the hairstyle:
This haircut has the plus to be brushed not only sideward but also backward with a toupee, if we add a soft hairline in one of the sides of the scalp; the hairstyle will be especially favorable to go to work at the office and still looking attractive.
And, if you wish, use a small amount of hair wax to provide a natural shining to your hair.
Hairstyle #3 Gummed with the hairline
David Beckham was one of the many men who made this precise hairstyle so famous and worn by men all around the world.
It is perfectly accurate for those business men who have to wear a suit and a tie almost every day of their occupational life.
Nevertheless, it can be still adapted for a more relaxed day when you carry a more selfless look like a plaid shirt or shorts; you just have to find a way to make the hairstyle look natural.

To perform the hairstyle, you must lower your sideways' hairs and the rest should be took into layers, this section of hair will be longer than the others and, if you can, apply on some hairspray or hair wax before you do the line on the side of the head you have chosen.
Next, all you'll have to do to get the hairstyle done is to brush the rest of your hair back and that's it!
Tip for the hairstyle:
As in need of using hairspray or hair wax to set up in place the hairstyle, consider wash it with hair dry shampoo in order to avoid the excess of grease in your hair.
Medium length hairstyles for men

Though we have talked about these old-ages-short hairstyles for men, it is for sure that is not the only possible length to have your hair cut.
At the present day, medium-length hairstyles have fortunately achieved popularity again over the already mentioned before.
However, it has been not an easy path to take due to the time the hair takes to grow out long enough to gain the depth wanted; depending on your hair's health and condition you will need to take more frequent visits to your barber, buy some hair products to rush out the growth in order to perform different hairstyles.
So, here we give you some advice to take care of your growing hair:

When get into the shower and shampoo, flip your head upside down and massage
You probably didn't know this, but it has been studied that one of the reasons what causes loss of hair it's the lack of blood flowing, men often spend their days stand or sit down; that's why getting your head bend and massaging while showering with shampoo will totally help to stimulate the blood flow in your scalp.
This, at the same time, will get you closer to have your first medium-length hairstyle.

Men usually tend to believe that a good care of hair must include: hairdryers, hairspray, mousse or hair wax, however, when it comes of growing hair avoiding the use of all of those products will probably cause a greater good, specially the heat.
If you are in a hurry and must heat-styled your hair, try to previously use a product that protects it to keep it from any possible damage.
Not only tools and hair products can delay the growth of your hair, rude hairstyles like tight ponytails or braids can also cause your hair to become broken or weakened.

As any other part of the body, the hair needs vitamins to get stronger; if you really want your hair to get healthier you should try to eat foods high in iron, zinc, selenium, cooper and magnesium.
A,B,C and E vitamins are also clever decisions to increase the speed of growth not to mention the ingest of: eggs, yogurt, avocado, broccoli, cheese, spinach, salmon, milk, whole grains, grapefruit, bell papers, oats and parsley as these foods have the ability to nourish your scalp.
Don't forget about different juices like: orange, lettuce, carrot and grapefruit. They are also helpful. Finally, increase you ingest of Omega-3 acids aside these, including: fish, flax seeds, walnuts and beans.

As ironic as it sounds, cutting your hair a little bit, or at least the ends, will lead contributing to the hair growth. What this will do more specifically is to prevent the ends of your hair from splitting. If you don't pay the required attention to them you will end up with an unhealthy hair and all of the effort you had achieved so far will be missed.
We are not saying you should cut your hair every weekend but at least trimming a quarter of an inch of your hair every two months is just what it will suit you.

So, you know now to properly take care of your growing hair, but once you accomplish your goal, what is next? Of course, style it with some hairstyles for men.
When deciding exactly which hairstyle you should go for, the first thing you will need to do is asking for advice to your barber and decide which hairstyle will suit your face better.
As having now the longed length of your hair, you are free to experiment. The chances to get different or more elaborated hairstyles are even higher.
But, if you have not decided for one, here we have some options that you will might like.
Hairstyle #1 Grown out layers

If you were patient enough to have this length in your hair, you are all good to do this hairstyle. Its most important feature are the ends of the layers and in order to achieve them try better blow drying instead of air drying after you wash it.
A little help is not bad, so if you can, use a round brush to get the barely-there flip at the ends. Remember that getting this hairstyle will help your ends to look more styled and will provide your hair some softness and elegance.
Hairstyle #2 Soft and spiky tapered cut

Nowadays, crispy spiked hair is no longer men's first option; most of them are now embracing the idea of soft and more likely touchable hair that could seem less groomed and more casual.
Nevertheless, we know for sure this hairstyle sometimes may be hard to keep up, so don't be afraid to use hair pomade or some hairspray to style it.
The hairstyle's performance it's not complicated at all, but still you will need a few hair waxes in order to achieve its true shape. If you want to know how to properly spike up your hair follow these simple tips:
Get a drop sized amount of gel or wax and rub it between your hands until they are all spread with the product
Pass your hands along and underneath your hair ruffling all of the hair so the wax will be evenly spread
If you are looking for definition in specific areas, run your fingertips through your hair, however, do not intentionally spike up the sections, otherwise the final result will not be as expected
Hairstyle #3 Undercut with twist back top

One of the best parts of this hairstyle is that it will finally end up with those annoying left out strands of hair, not to mention that it will control the freeze affecting your hair.
Another remarkable perk is that you will easily do the twists without any hair product to reach the hairstyle.
Just divide the hair in several sections, as if they were rows when damp and start twirling them towards the back of your head, you might need use some pins to secure it for a few minutes while your hair gets used to the shape.
After 10 minutes, remove the pins and you should be all good to go with your new hairstyle.
Hairstyle #4 Two color men's undercut

Though the level of originality shown in these hairstyles the fact of adding some different color to the mix, it will only provide a wilder and more resourceful look to your hair.
And let's not forget about how it will emphasize your haircut creating a fade shadow with the original color of your hair.
Consider using a dyeing color that will subtlety fusion with your first tone; next it is time to choose the right hairstyle that will accentuate your new combination of colors.
The possibilities to work with these are infinite, you can choose a hairstyle for men that will provide a sassier look but this one is a good option too, you just have to indicate your barber to shave the lower part of your head, almost getting to the base and the rest of the hair must be thicker with a delicate and elaborated fade technique, if yours is a dark-colored hair this hairstyle will prepare the base where the dyed color is going to be applied.
Men with long hair
Moving forward, we have finally achieved the final stage: men with long hair.
Not every male in the world has gotten the privilege of enjoy all of the benefits that long hair carries, it takes a lot of hard work, patience, self-care and sometimes, several products to have your lion's mane.

Nevertheless, if you already joy from having one of them, you probably have asked yourself everyday: "what should I do with it today?"
You might have found a hairstyle for long hair that suits you well, but what if you get bored of it? Or if the occasion you are going to attend o requires a different hairstyle code?
However, the color, shape or length-size of your hair is, do not worry; we assure you there is always going to be a way to style it that will accurately depict your personality.
The men's long hairstyles in you will be loved by all the girls.
Daily hairstyle for long hair
How to choose the daily hairstyle for your long hair?

To pick the hairstyle that will adjust you just fine for your daily routine is never easy, there are a lot of things to consider in like: the texture of your hair, the length, how often do you wash it, if it's meant to match your beard and many other features.
Aside of this, we should also acknowledge the use of several products in order to contribute not only the self-care of your, hair but also as a way to style up cooler your hair for any hairstyle for men.
Your hair's texture plays a very important role here as there exist plenty of hairstyles for long hair men to perform vividly, not every type of hair will get adjusted to it.
For example, curlier hairs tend to look better when your hair is loose and wet, it gives you a relaxer and fresh air you could perfectly perform every day.

Men with straight hairs have probably a more extended scale of hairstyles to perform due to how easy can be to style or shape them in almost any possible way but they might still have the persistent doubt of how to do a hairstyle that will provide a sexier look.
Here you have some easily done hairstyles for men with long hair:
Hairstyle #1 Twist-in bun
Love it or hate it, this particular hairstyle has become a trend among long-haired men these past few years.
It's not complicated, does not need a crazy amount of hair products, it will style up and control all of your locks and will provide a fancier look to your hair, which at the same time, makes the hairstyle perfect to do at formal events.
No woman would resist you, whether wearing a suit or a simple and classic t-shirt, along this hairstyle you will break hearts.

One of the biggest perks from this hairdo is that has a lot of variations itself; you can do the bun on top of your hair, half way, in the lower part and many more.
Here are the steps to follow If you want the bun to remain on top of your hair:
Prep your hair: Before starting with the hairstyle, make sure you have washed and conditioned your hair, afterwards begin brushing though it in order to untangle and remove any existent knot.
Gather your hair: Now that your hair is set up, it's time to learn how to make a bun. With your hair loosed, gather it into a ponytail roughly at the middle of your crown and get your hair band ready to secure it.
Tie your hair: wrap your hairband around the ponytail and twist it once, then let It go one has been through the second wrap. Subsequently, pull your tied up hair only half way through to create a loop; the ends of your hair might probably get loose and downwards but do not worry, that is part of the magnificence of this hairstyle
Finish off the look: now you are almost all good to go, if necessary, tweak the size and position of the bun to complete the hairstyle

Though the flawlessness and simplicity of this hairstyle; as we mentioned before, it is not the only existent way to perform it.
The following example can work for many types of hair without matter the texture or length from It, we know that seldom men tend to consider long hairstyles for men as feminine but that couldn't be more wrong, take a look at this hairstyle to figure out how to perform it.
Hairstyle #2 Half-up man bun

One of the best hairstyles for men to show off the length of their mane is the half-up man bun; it is classic, unique and styled up in a way that tames your hair without stop looking wild. We must admit that the most accurate texture of hair to do this hairstyle is curly hair (as shown in picture) or thick hair.
However, if having thin or flat hair you still can perform it by preparing your hair with a few products in order to increase its volume and achieve the perfect depth of hair required for the hairstyle.
A great advantage of this hairstyle is that is a very good way to keep your hair out of your face but still displaying your lengthy locks providing a messy and the same time styled-controlled look.

Having started your mastership in buns will make this hairstyle less complicated to do.
Steps to follow:
As we previously claimed, if your hair is not that curly, do not let it be an impediment for doing the hairstyle. Thus, you will have to use some hair products to prep your hair and to give it the wished volume; we recommend you:

Once you have your hair all set up with the product, let it air-dry naturally.
Next, it's time to start with the bun by sectioning your hair in half horizontally, having the beginning from around eyebrow height
Putting your already and recently acquired knowledge about creating ponytails in practice, perform one in the gathered hair you previously sectioned and secure it with an elastic band, after having your hanging lock, start twisting it so this will make easier the doing of the bun on the next step
In order to create your half-up top knot, wrap your twisted hair around the base of your ponytail, until you have reached the form of a neat top knot and make use of a few of bobby pins to secure it to secure it in place
And finally done! Just like that you have mastered this ingenious hairstyle for men and you are all good to go mesmerizing everyone with your powerful mane.
Hairstyle #3 Messy man bun

By now, you have probably mastered the art of buns, but what if we try to give a plot twist to its concept itself?
The messy bun is pretty accurate if you are looking for a more casual look, as we are looking for a daily hairstyle for men that matches your usual way of dressing this can be the one you have been looking for.
We know, you are probably thinking that creating messy bun hairstyles may seem insane if we are trying to style and control our already messy long hair, but have a little faith, a messy hairstyle is not always a sign of carelessness because it may provide you a sexier and cool aspect.
And as a matter of fact, we said before that low buns are also possible to perform, so let's give it a try!

Steps to follow:
The most important thing to take into account is to is to have your hair dried. Whether by using a hairdryer or just leaving your hair dry naturally, never intend the hairstyle along with wet hair as this could damage your ends or tore apart strands of your hair. Finger combing is also right to achieve that second day look.
Consequently, pull all of your mane back and gather it into a low ponytail, try to keep it towards the nape of your head or any place nearby that makes you feel comfortable. However, make sure you grabbed every left-out strand or lock of hair
Now it's time to create a loop. When you've found yourself securing your ponytail; after a few twists, on the last wrap just the moment when you are about to pull your hair though the hair band, let it go only halfway through and leaving loops hanging
You might be reluctant to the use of hair pins, but they are so needed in order to the hairstyle to remain intact. These little styling tools can be your new little friends and all you have to do to is use them is to insert about 4 of them around your bun so it will not fall apart.
And there you have! An instant hairstyle for men with long hair that is casual so you can carry it around every day of your routine and that does not take so much effort to be done within seconds.

So far, we have talked about all of these kinds of lengths and hairstyles for men, but as powerful as a long mane might be, so are afro hairstyles.
Men with curly hair have enjoyed though years of the privilege that this particular texture of hair carries, specially using afro hairstyles.
If you have the honor to have this type of hair you have probably decided just to leave it at natural, and it does go well for some time, but what if you are looking for something fresher, newer and cooler?
Do not restrict yourself from trying on some tricks for your hair to gain another aspect that could go better from your usual.

As having afro hair, the first thing you'll need to do in order to choose the hairstyle that will suit you better, is to identify the exact kind of afro you have as usually the hair scales between being curly, coily or kinky.
Acknowledging this will not only give you the tools to know what hairstyle exactly is the one for your hair but also will make you smart at the moment of buying hair products.
Here we present you this list to identify your hair's texture:
Kinky Hairstyles

Kinky hair is probably the textured hair that requires most of care and grooming. This precise type of hair is more commonly seen in men with African heritage that's why we could also find this kind of hair with the name of "afro-textured" though men with different heritage can also be portrayers of this hair.
You must be aware that kinky hairstyles in men are sometimes harder to perform due to its curls delicacy; the reason why it needs so much care and dedication is because the hair strands grow with a very irregular surface which means that a kinky-haired strand will have the least tensile strength and will be prone to damage or breakage.

Hence, if you are a man enjoying from this texture of hair you must be smart to show off your mane with astonishing hairstyles.
Before suggesting you some superb hairstyles for your afro hair, let's check out this advice for the right care and groom of your kinky hair.
Use a Rinse-Out Hair Conditioner
One of the major problems with kinky hair is that runs the risk to become dryer quickly if it is not well handled. Hence, you should start considering condition on your hair every time you wet it, which basically means every day; normal conditioners are products you can use to apply on your hair for about two minutes and then removed with water.
Also you must remember that the use of conditioner must be in tune with your shampoo use as well, this will prevent your hair from having an unwanted reaction and keep in mind that they will help you to have more control over your hair at the moment of performing any hairstyle.

Use Oils to Detangle Hair Tangles or Knots
Tangles are just another rock on the path of having kinky hair, as we explained before, its natural texture and structure makes it susceptible to get lost in millions of tangles and knots.
However, to fight back these issues are not as simple as it sounds; takes a bit of time to really master the art of detangling without provoking the strands of your hair to get split and nonsense.
Natural oils or butters are a clever option when it comes the time of detangles; recent researches have proved that the best oil option for men hair is olive oil; it works brilliantly as a detangler, just as coconut and Shea butter.
The best way to use them on your hair is to coat the whole length of the tangled or knotted lock as well as the matted/knotted area.

There might will be several strands or locks of hair left out, so you should also coat them.
Once done, start with tight pitches on these areas with one hand and pull the preceding length with the other in order to achieve the styling and detangling.
Use a wide-tooth comb or your fingers for styling
Having now clear tips to know how to properly take care of your hair, it is time to style it. Most of men mistaken this kind of hair for something easy to style up as its own natural grace will do the entire job.
However, you must know that for kinky hair, you have to avoid the use of any other comb than wide-tooth or your fingers to style your hair.
Another thing to keep it mind is that the right moment to do so is when your hair is damp, never when is fully dried.
Apply your stylizing product and do not touch your hair any further as kinky hair's locks may easily fall apart; style up with your wide-tooth comb and never pull hard in order to avoid this.

Now that we know how to take care and style up our kinky hair, is time to finally move on to the hairstyles for men.
As kinky hair has powerfully come though years as a trending and renewed type of haircut, hairstyles did not wait to make their presence.
From kinky spikes to sponge twists high fade, here we leave you some men's hairstyles to style up your kinky hair:
Hairstyle #1 Kinky Spikes

Spiky hair is a fashionable and trending style seen a lot among black men.
This hairstyle has the perk of giving an eye-effect to the rest of people; if you look from distance you will think that the hairstyle has regular and thick curls on top, but if you look closer you will notice that the curls actually look like some fun kinky spikes.
Absolutely this is one of the black men hairstyles
If you already have the kinky hair, let's focus on doing the spikes:
The most important thing when doing this hairstyle is that your hair must be wet all the time during the whole process, so let's start by shampooing your hair. Once you have finished, dry it off with a soft material (do not use a towel as it will completely dry your hair and as we said, must be damp) like a bed sheet
Now we are onto products, so using an olive oil gel rub it on your hands and spread it all over and through your hair, use as much as you need to but make sure it is all covered
This is probably the most important step, the brush. For this hairstyle to get successfully done you will need the proper brush, which for us, is the medium textured brush; so you'll grab it and you are going to put it on your head and start spinning it around as you would do a sponge.

Continue spinning around the brush in a circular way for five minutes top but make sure to wet it up once in a while so the brush will not the moisture fade away
When you are done with the first brushing round, try to use a shea butter for hair in order to provide the hairstyle a more shiny and curly consistence. Basically you will repeat the same process as the gel's and once you have applied the product start twisting circularly with the brush again on your head
To prevent your hair from locking and to keep it moisturized, use conditioner, oil or some product that will help the hairstyle to remain moisturized the rest of the day, this will also make it easier when trying to get all of this stuff out

And there you go! As you could appreciate doing kinky spikes is not complicated at all and it could work with almost any kind of length so do not hold yourself back from trying this hairstyle for curly hair because it will definitely make your hair look pretty cool.
Hairstyle #2 Natural fade with line up
Fades have been the bomb these past few years, when speaking of hairstyles for men almost any of them does not have the fade technique somewhere on their heads; and we also make it work along with curly hair there is no doubt that the final result from this hairstyle will be awesome.
It is perfect for men who are looking for trying something different on, what makes this hairstyle so special is that the shapes are structured with extreme precision in order to highlight the face's areas and features such as the cheekbones or example.
Meanwhile, the simplicity of the natural hair on top of the head creates a particular balance that will provide the hairstyle with the most flawless appearance.
To make it work along with the beard line is a really good way to help styling up the hairstyle but it will depend upon your barber (or if you know how to fade, upon yourself) to know how dense the fade must be done.

Hairstyle #3 Tapered afro twists
Black men have been through infinite kind of hairstyles to try on some new looks, whether they are braids or spikes, twists have gained some popularity through years.
Twists are a particular and favorable way to highlight and make reborn many of the traditional characteristics from African hair; which tends to be curly, textured and wiry.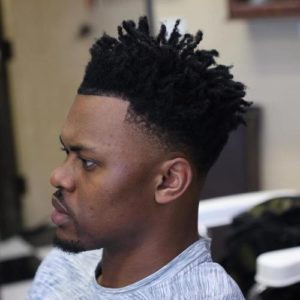 If you feel like trying on this hairstyle on your own, follow these steps:
First of all, just like in the previous one, you must condition your hair. Working with an already cleaned and conditioned hair is very important for the right handle at the moment of performing the hairstyle
Afterwards, try to dry up your hair with a quick towel dry (make sure not to use a hairdryer or to let the hair too waterless as it could be useful for the hairstyle to be damped)
Next, you will have to spray some leave- in conditioner or detangling spray on your hair in order to start detangling your hair with your fingers and following up with a wide-tooth comb.
As this start being a habit, you must make sure that your hair is moisturized, so you will have to apply some moisturize product on the ends of the hair
Once moisturized, these strands of hair are not out of danger of shrinking. Thus, in order to avoid this to happen, expose your hair to a blow warm heat for 5 minutes directing the nozzle of the hairdryer downwards at all times to reduce freezing.

Using your fingers, choose a piece of hair and section it off, how wide and how thick will it be depending on the size of the twist you desire. For example, slender twists might need less hair, but thicker twists will have to count on more hair
If you already decided which sections are using, take two equally sized strands of hair and starting from the scalp, twist them around each other in a clockwise manner, left strand over right
When this process is done, proceed to twist the strand all the way down leaving at least ½ inch of hair remaining at the ends
Keep twisting until all of your hair be that way and when it's done, use some hairspray while starting to pull it upwards to achieve the wished shape
And we are done! You are off to show out your twisted curls with all of this characterized texture of hair.
As it has been noted, despite kinky hair might be complicated to carry sometimes, there are no limits when it comes to hairstyles.
Maintaining your recently acquired twists can be easy,
Moving forward, we have mentioned now several hairstyles for men with kinky hair to wear on their daily routines, but as we claimed before, curly hairs are beyond of running out of options speaking of hairstyles.
Curly Hairstyles

Black men probably have the hugest variations of curly hair existed until the date. However, this does not mean they are free from the hard work that taking care of this type of hairstyles carries with it to style up.
Deciding the specific hairstyle you are using depends on many factors such as the length, texture or those little tricks of your hair, but we know that sometimes this may make difficult for men to reach the right hairstyle for them.
Fortunately, in 2018 there are several hairstyles for you to choose which could include hairstyles for curly hair.
This texture of hair is alike the kinky one but featuring itself with softer curls and seldom easier to handle, it twists more often than other types of curly hair because of the hair stems that are remarkably oval.

Same as kinky hair, curly hair hairstyles for men might have been a challenge for you all along, we are aware that men with this kind of hair tend to let It go freely through the wind instead of wasting time trying to style up their messy hair.
However, you must not keep yourself from trying on some of these casual hairstyles for men with curly hair.
Remember this will also depend on your hair's length, but we will leave below several choices in order for you to find the one that suits you hair's features.
Hairstyle #1 Black bun

As much as having afro-curled hair may be a blessing, is also a nightmare when you are in the middle of those activities that required a full field view and you want your hair out of your face, or maybe for those days when the heat becomes unbearable.
With this hairstyle though it may seem challenging, it will be worth it to solve the previous issues. Not to mention the fact that you will learn how to perform this commonly used hairstyle in anybody's hair or more proximately on your own.
Steps to follow:
Before starting with the steps, you will do have to make sure you have at least these 3 things:
Moisturizer
A hair brush
Hair band

Once you have gotten these stuffs, you are all good to begin with the hairstyle.
Take the moisturizer and grab a considerable amount of It so you can rub it through the palms of your hands
Spread the product completely over your hair and make sure it is all moisturized
Take the brush, and brush upwards your curly mane for a few minutes in order to detangle your curls and make it look wider
When it comes the time of getting the bun, grab your hairband and put it around your wrist so you can easily access to it at the moment of doing the bun. On the other hand, gather your brushed hair on top of your head until you can completely grab it with your hand.
Now it is moment to take the hairband and to introduce the mass of hair through it, if it's not tight enough you can give the hairband a twist and repeat the same process.
This way your curly hair will wrap itself into a bun leaving out the view of some messy curls gathering together. It will provide the hairstyle this original look you were looking for and as long as you have it your hair will not be messing across your face.
Hairstyle #2 Faux hawk + degrade

As we are aware that this particular fashion is here to stay, it was impossible molding it for curlier hairs.
It combines the old and classic faux hawk with the retro air that the pompadour provides along with the fade technique made gently sideways.
The best part of this hairstyle comes with combination of your curly hair with the structured shape in the temples.
Also, if you wear earrings and want to show them off, this hairstyle might be the one for you as it does not cover the ears with your mane.
Hairstyle #3 Locks + Line Up + Fade

Dreadlocks are a hairstyle that has been used for different cultures all around the world.
They have been used not only for women but have also transcended to men these last few years.
An incredible perk from dreads as a hairstyle for men is that you can start dreading your hair while is short; this will actually help your hair to grow out full locks much easier and faster.
You can always create your dreads with a comb or a brush; you just need the proper technique and instruments in order to perform them in the right way and before your hair is an inch long.
Here we teach you how to properly dread your hair, if you perform them correctly there is no doubt you will look neither more nor less than an African king

Steps to follow:
Make circular motions in your head with your brush. Curly hair is the best texture of hair to do this kind of hairstyle, so let's take advantage from it. Using a small brush, do some circular motions all along your head until your hair starts forming into balls. After a section is formed, move to another and repeat the process; this will take about five to six minutes.
Apply cream or wax to each of the sections. Once all of the sections of your hair are ball-shaped, it will be beneficial for the hairstyle to apply some dread wax or any other moisturizer in order to hold them in place
Secure the dreads with a hair clip or elastic band. Do not be afraid of using any of these instruments as is a crucial part of the process itself and it will help you to get the dreads done quickly. However, make sure that they are not too tight so it will not be annoying for the person who is getting the dreads
Dry the locks and let them sit for at least three hours. For this particular step, it's important to use a hairdryer to completely dry off your hair's water but making sure that is still moisturized by the hair wax. It is important to warn you from not touching your hair or messing around with it as the dreads may become loose

Hairstyle finished off!
As we could appreciate, though dreads are a trickier hairstyle for men to perform on their hairs they are totally worth it as they will provide a more original and special look to your hair.
It also highlights the color of your complexion and there will be always the possibility to benefit the hairstyle with dyed colors.
To the present point, you are already informed by several types of hairstyle for men to perform but most of these are usually done in younger men, so what happens with the gentlemen who are mature?
Do we have to let ourselves believe that only because years are adding to our age, so will our own fashion, style and personality? Because those are only a couple of features that are within the subjective concept of hairstyles.
Hairstyles for older men
As you've been told, hairstyles for men are transcending beyond time, style and age. More mature men usually tend to believe their age is reaching them, so they feel like not being in the mood for taking care of their appearance, (which of course includes hairstyles) or at least giving it the importance they maybe did before.

Grey hair? Thinning hair? Receding hairlines?
Do not make your world fall apart because of them anymore. Instead, use them in your favor! We encourage you to cheer yourself up again; when it comes to hairstyles for more mature men the options are as wide as the ones we have already shown.
Here are some hairstyles for men so you might get some inspiration and find the one is right for you:
Hairstyle #1 Two- toned
It is hard to deny that something provoked by ages is grey and white hair, this is mainly caused due to the aging of hair texture and lack of pigment.
Nevertheless, do not let this change of color dictates the path on your hairstyles or try to hide them, use it on your side!

With men who have the privilege of growing white hair only on the sideways of the hair, a very good way to style up their hair is by the two-toned hairstyle.
It is done by a short amount of grey or clearer hair on top of your head but leaving the whiter sections frame the features of your face.
If you also add to the look the salt-and-pepper scruff in the face, no matter how rushed your golden years are this hairstyle will not let them see.
Hairstyle #2 Wavy middle-length hair

For gentlemen who are patient enough to wait for their hair to grow a little more in order to gain more volume and texture, this hairstyle is one of the best options.
Thanks to the business friendly and natural kind look you will achieve a hairstyle that is pretty easy to maintain along with an air of wisdom and sophistication.
Another perk of having this hairstyle is the fact that it highlights your natural curls with layers done thanks to the length of your hair.
Make sure the hairstyle remains out of your face in order to show a neater look.
Hairstyle #3 Neat comb over

Generally, when we talk about hairstyles for older gentlemen we discover that they have a certain appeal.
Comb hairstyles have gained a considerable popularity over the years, they are classic and look great with any texture or length of hair.
If we mix all of the great features that this particular hairstyle carries, with the philosophic air that surrounds older gentlemen, we will get the air of a retro old styled man.
Neat combs have millions of variations and ways to be performed like: the side part, comb over undercut and comb over fade; so, do not lose the chance of trying on this hairstyle that could provide you the confidence you thought lost due to your golden ages.

As it has been appreciated, modern hairstyles have no age, length or texture.
Though choosing the right one might be difficult sometimes that does not change the fact that there is infinity of possibilities to experiment with, our golden ages must not be an impediment to hold ourselves back, remember that your body doesn't reflect your inner spirit, and so do your hairstyles.
Moving forward, what if we go further and try to discover hairstyles that might be out of ordinary in this side of the continent?
Asian culture has transcended successfully through places all around the world; now we are not only enjoying from many of the things that their culture has opened to us, but also from their sense of fashion.

Asian hairstyles are the real concept of the phase "nothing is impossible", they go from classy old pompadours to side sweeps and angular fringe hairstyles.
They have no fear on testing with all possible hair tools; in fact, since 2016 Asian hairstyles have become a trend in several countries all around the world.
Maybe because of the increasing fame that Asian pop culture has achieved lately, but what there is no doubt of, is that Asian gentlemen know how to perform hairstyles.
If you are not aware of all the different type of Asian hairstyles that are trending topic right now, here we leave you a short list:
Hairstyle #1 Top ponytail with shaved sides
When it comes of shaved sides hairstyles for men, we surprise ourselves with the amount of modern and versatile hairstyles that have been created, and the top ponytail with shaved sides is not the exception.

The best particularity from this hairstyle is that without matter the length of the hair, it can be easily performed, besides of the fact the thin textured Asian hair is probably the most accurate one for this hairstyle due to how controlled and easy to handle can be.
And as if that were not enough, this hairstyle is also a way for Asian men to honor their culture as this hairstyle used to be worn by the age's warriors from some countries of the continent.
So, do not waste the chance of trying it on!
Hairstyle #2 Throwback asian hair

Paying homage to the age of 90's, this hairstyle has reborned to bring up the old fashion Asian days. Being conformed for a stylish undercut, paired with a long-brushed back top hair with the hairline gently placed half-middle, makes the hairstyle look more retro than before.
It also helps the application of gel or moisturizing to change the first look of the already good cared Asian hair.
Though the hairstyle is considered old fashion, Asian gentlemen have opted for it mainly because of the fact that looks formal and completely accurate along a suit or a pair of boots.
If you have decided yourself for this particular hairstyle, keep in mind that the fade technique should be also done correctly so it will give the wished effect.
Hairstyle #3 Dyed hairs
Back in the days, Asian men used to be really conserved with their hairstyles.
However, as times have changed so have they; every day more and more Asian men opt for modern, anime-inspired and new hairstyles.
This, of course, includes dyed hairstyles.
Old jet-black hair-colored are becoming in a thing of the past for several Asian gentlemen nowadays.

The use of dyed hair is giving Asian men a lot of possibilities when speaking of new hairstyles, no matter if you go for a spiked up or smoothed down hairstyle, there is a color for everything.
Is it that much that even has become a trend the combination of these cakes-colored hairstyles along with completely back attires.
How should I dye my hair?
As fabulous as this technique sounds, there are several things to consider in if you are thinking about making the jump to dye your hair.
First of all, you must know that your black hair needs to be bleached before it's prepared to take in another color, otherwise your color will not only disappear in a short time but also, you'll be just left with a faint sheen.
In this picture we have an example of one of the asian hairstyles men, super cool!

You can always go to a hair professional to give you a hand with bleaching, but there is always the chance to do it yourself.
Another thing you should consider for choosing the right hair color is the tone of your skin.
In order for you to look as cool as you possible want, try to pay attention to the warmth or coolness regarding to your unique skin tone so it can make the perfect contrast.
Finally, focus on the parts of your hair that you'd like to highlight, maybe the specific hairstyle does not require your hair to be all dyed but some parts of it only, so keep that in mind.

We hope we have helped some gentleman to find the hairstyle that will define him or that suits him best. Our final advice is not to hold yourself back from trying something fresh and new, after all hairstyles should depict our personality and spirit.
If you liked this article and would like to see more content like this, share this complete information with your friends and if you have any suggestion or opinion, you can leave it in the comments section.
Please share with your friends and family too.
¡Por cierto! Antes de que te vayas, queremos recomendarte esto que seguro que te interesa:
Son una serie de contenidos a parte del que has leído que puede ser interesante para tí ¡Muchas gracias por leernos!