The bob hairstyles is a straight haircut that extends to the height of the jaw, often combined with bangs.
It is also called "3/4" because it represents three quarters of what is considered a long hairstyle.
The bob arises at times of the First World War, when nurses began to use shorter hair for hygiene reasons.

At the end of the war, in 1918, Irene Castle, wife of Vernon Castle, first introduced the hairstyle in the United States.
Vernon and Irene were a professional ballroom couple. Other celebrities such as Ina Claire and Louise Brooks popularized the hairstyle among women of that decade.
Like every other trend it started with a movement , during the 1920s it became the symbolic hairstyle of a social group of women called "flappers".
These were middle class young women who did not behave under conventional social norms: they drank, smoked, had casual sex, drove cars and attended jazz clubs and vaudeville shows.
The flappers first began to use short hairstyles, daring clothes, hats, headbands and bows to decorate the hair.The bob hairstyles are the other short or half-length haircut that seems to have taken the world by surprise.

The bob hairstyle will forever be defined as the 1920s look as the female revolution quickly abandons old rules of femininity and fashion.
After the personal freedom allowed them, during the First World War, young women first began to go out to work, get permission to vote, play sports and demand to leave the house unattended.
Women were becoming emancipated and financially independent, especially since so many men had been lost to the war or died from epidemic diseases in the years that followed.
Giving up long hair became a symbol of an independence and strength for women who finally felt equal to men.
Many observers predicted that this new wave of bobbing the hair would be a fashion trend that will soon be ended.
Hairdressers who were more familiar with styling and waving long hair, were shocked to discover the urge of women to wear a bob hairstyle, a passion that they needed to take advantage of.
At New York the citizens were not quite prepared for the queues of women outside barber shops waiting to take the plunge and get a bob hairstyle.
At the time, in New York, there were not many hairdressing salons around the city. It takes a while for the style to get a more professional look after the European hairdressers moved in to the city and had the opportunity to answer the demand.
Later on, just a few years later, by 1923, women of New York are wearing the bob hairstyles in waves and shingle cut. 
The shingle bob hairstyle

The shingle bob hairstyle , introduced to Belle Epoque Paris by  a Polish-born hairdresser  named Antoine 'de Paris', was considered masculine and severe at first sight but soon becomes a popular hairstyle between the  women of that time.
In 1924 Antoine first opens his New York beauty salon on Fifth Avenue to respond to the demand for cutting women's hair in the middle of the whole bob hairstyle movement. This new bob hairstyle fuels the flapper girl spirit to be more and more daring and controversial.
Incidentally, the term "flapper" has for centuries been a slang word in the United Kingdom, but now it referred to a sudden young woman of easy virtue.
The shingle cut is named after the characteristic form of tiled roofs which allows tiles to overlap each other.
The look of the rows of waves and layers over a closely trimmed neck, closely resemble the row of inclined shingles used on a roof.
The bob hairstyles back in the 1960's decade

In the middle of the 1960`s decade, Vidal Sassoon considered to be the father of modern hairdressing, made the bob hairstyles popular again, he reinvented it by using the shape of the early bob and making it more stylish in a way that this haircut was a lot simpler that the previous ones .
The reappearance of the bob hairstyles coincided with the arrival of the «mop top", which was a sort of "Beatle" haircut for men.
Those were associated with the bob hairstyles at the decade.
People known for this specific hairstyle included the fashion designers like Mary Quant and Jean Muir, and actresses like Barbara Feldon who whore and iconic bob hairstyle in the famous TV series "Get smart".
This hairstyle was also popular with African-Americans women in the middle or mostly late 1960s; the bob hairstyles were shown in many groups like for example Diana Ross & The Supremes. Many styles and combinations of the «bob» have been developed ever since.

In the 1960's decade,   Barbra Streisand's medium-length, straight bob or helmet bob hairstyle was all women passion and for a good reason.
This style is just flattering, low maintenance, fashionable and also has very interesting qualities that has helped it stand up to the test, surviving to the pass of years.
When we look back on a lot of the other hairstyles from the same decade, many of them now appear  out dated and out of step with current fashion trends but this one has really put up the test of time.
The bob hairstyle back in the 1970's decade

By the 1970s decade, the styled look is out of trend and a more natural way of styling the hair is considered to be sexy back in the day.
The hippy point of view had its influence on killing some of the more structured hairstyles giving to the idea that they required too much effort to maintain them, most of these styles were part of the 1960s decade.
During the 1976 Winter Olympics, ice skating champion Dorothy Hamill's bob hairstyle becomes a try to find style.
The pageboy look makes an appearance since is most definitely 'in' and many women started wearing this low-maintenance haircut like for example Kate Jackson in in the TV series Charlie's Angels.
The bob hairstyle back in the 1980's decade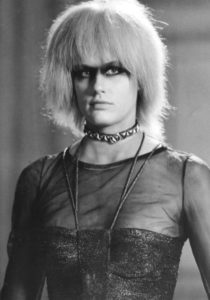 In the 1980s the bob hairstyle starts to diversify into advanced and creative haircuts are used to show off the talents of high-profile hairstylists.
A  Dutch hairdresser named Christiaan Houtenbos creates the buzz bob in 1984.
From the front part of the hair it can look like a classic bob cut but in the back part of the head is shaved underneath the shape.
Also the radical and innovating look of buzz-cutting the sides or one side of the hair becomes a futuristic fashion trend for many people back in the day.
The spiky punk style has morphed into a futuristic spiky bob hairstyle.
The bob hairstyle also goes through a retro twist in the middle of the 80s decade as jazz and nostalgic music become popular for a period of time.
Another variation of the bob hairstyle that appeared in the 80s decade was the sleek bob, in the style of Louise Brooks also becomes a very popular look. Many actresses also wore this sleek style such as Phoebe Cates, Patsy Kensit and Molly Ringwald and many others.
The Bob hairstyles back in the 1990's decade

In the middle of the 1990s decade, the bob hairstyle goes into rest for a while, but as fashion is a cyclical thing, the bob hairstyle eventually becomes another hairstyle choice again.
Bob haircuts came in a huge variety of shapes, lengths and colors and even became popular with men looking for an air of French sophistication, because back in the day French men have been successfully getting away with bob hairstyles.
In fact the bob is no longer considered a symbol of liberation or modernity in the 1990s decade.
Everyone from Whitney Houston to Courtney Love and even Emo Phillips expressed their personal style through the bob hairstyles.
Bob hairstyles revival 

 In the year 2006 the bob hairstyle was adopted by the famous singer Madonna and also by the actress Sienna Miller as a way of getting out of the boho-chic style which was popular in 2005.
When the Canadian ice dancer Kristina Lenko was asked to join ITV1's new series "Dancing on Ice". She decided that she wanted to change her hairstyle, so she   went to her hairstylist in Toronto and told him «Do whatever you like.»
Her hairstylist cut Lenko's beautiful long hair into what we know as an A-line bob hairstyle, where the hairs are shorter in the back part of the hair and gradually go longer towards the front part of the hair, with the longest pieces toward the front of the face.
Later, the Spice Girl Victoria Beckham decided to cut her own hair into this particular hairstyle, helping the bob hairstyles to raise its popularity all around the world, all the girls were asking their hairdressers for a «Pob»— which stands for Victoria Beckham's nickname "Posh Spice" combined with «bob».
Recent years
Bob hairstyles trend for women in the recent years.

At the MET gala, which is known for being  the most important annual event in the fashion industry, the looks are not only focused on the outfits of the many celebrities who are lucky enough to be invited by Anna Wintour, editor-in-chief of "Vogue USA".
The hairstyles that the models, actresses and "it girls" wear also have their importance in this event, since they become the great trend that many women will follow after. Without a doubt, the bob hairstyles have had been the king of this edition.
At the beginning of the year, a large number of celebrities had already surrendered to this classic yet so elegant and feminine hairstyle, and the MET gala has been the perfect setting to crown bob hairstyles like the 2017 hairstyle.
Shorter or longer hair, smooth or wavy, this haircut that is so versatile and practical for day to day, was the great bet of many guest like Kylie Jenner, Kim Kardashian, Selena Gomez, Bella Hadid , Lilly Collins and the list goes on and on.
Types of Bob hairstyles

A-line bob: A typical bob cut, consists in shorter hair in the back part of the head with slightly longer hair in the front part that frames the face, typically curled-in under the chin.
Buzz-cut bob: Consists in shoulder-length hair in the front part of and close-cropped hair at the back part of the head.
Chin-length bob: Consist in a cut straight to the chin and is often combined with bangs.
Inverted bob: This one is similar to an A-line bob, consists in stacked layers in the back part of the head which is the main difference between these two. The edge of the haircut is curved rather than being a straight line. This haircut is also commonly known as a «graduated bob».
Shaggy bob: Consists in a messy bob layered with a razor, this is often a medium-length hairstyle.
Shingle bob: Consists in a cut that is shaped very short in the back part of the head, exposing the hairline at the neck. The hair on the sides is formed into a single curl or point on each side of the face at the height of the cheeks.
Shoulder-length bob: Consists on a blunt bob that reaches the shoulders in equal parts of the hair and has very few layers.
 Short-length Bob Hairstyles for women and girls

This one is called the A-Line Bob, this haircut is known for being layered and short in the back part of the hair and gradually goes longer toward the front part of the hair, often both sides are equal but it exists a variation of this bob hairstyle in which one of the sides is longer than the other one.
Besides this hairstyle is often combined with highlights. this is one is very popular because of the forms and varieties it has , you can try alternating between a sleek middle part, or a deep side part,  in order to adding even more dimension to such a multi-layered look.

For our girls that are more into the "rebel" or "edgy" style; there is this variation called the shaved bob. This bob hairstyle is almost like the A-line bob but you must shave one side of your hair, either on the left side, on the right side or even the back part of your head.
This bob is still traditionally a gradual more extended length from the back part of your hair to the front part of your hair but also highlights it's edgy and unique shaved design.

This one right here is what we call a tilt-bob which is a dramatic and a little  bit more modern variation on the A-line bob hairstyle as we previously mentioned.
This particular haircut consist on the typical shape of an A-line bob cut but with one side, usually the right side, extremely long while the other side, cups the jawline , giving  it a sweet and spicy twist all in one to this bob hairstyle .

If you want to try something very different we recommend you this particular bob hairstyle, here is what we call a short pixie bob, this super shot haircut is the result of the combination between a pixie cut and a bob cut.
This haircut falls just below one ear and it requires a lot more styling effort because it's too short to put up a ponytail or a bun.
The long bangs in combination with the choppy texture it's what makes this kind of bob hairstyle so unique and fashionable

Stacked bob hairstyle is a timeless haircut that is evolving day by day. It seems women around the world; don't have an intention to give up on this crop, which is pretty amazing because this cut is not only low-maintenance but also very fashionable.
Stacked bobs are possible to style in many ways and you don't need to limit yourself only with several options. It is a good idea for you to enter the bob hairstyles trend with a gorgeous stacked- bob like this one.
The choppy layering of the bob is one of the most impressive details that make this particular look really stand out. They add movement and dimension throughout the locks and we suggest you combine this look with a sophisticated hair color.

Having a bob hairstyle clearly speaks about your sense of fashion. It is more than evident that different types of bob hairstyles are having their moment in the current times.
Lots of celebrities have already managed to jump on the movement and try bob haircuts in different shapes and hair colors.
Eventually you may want to try the trend for yourself as well. Instead of wearing the same bob, you may go a step further and add a little bit edge to your look by trying an asymmetrical version.
Medium to long
Medium to long length Bob hairstyles for women and girls.

We know that some bob hairstyles tend to have a little less hair but that is not the case of the Bang Bob which has a little more hair to it that the previous ones and we achieve this look by having our typical bob haircut but with a mid-to-long length and also we add some bangs.
This bob hairstyle can have straight blunt bangs, feathered bangs or a soft side swept bang, and also goes from shorter to longer but not in such a notorious way, we could say that  this particular one it's a little bit more subtle bob hairstyle .

Here we have one of the trendiest bob hairstyles nowadays, they are called textured Bobs and they have broken out as a favorite in the recent years by adding a little fun and movement to a usually severe and strict cut.
The textured bob can angled cut as the classic bob hairstyles or cut bluntly, and get its texture through curling methods.
Soft waves, layers, and curls give this bob an extra boost that results to be very attractive.

The Lob bob, also known as the Blunt Cut or long Bob is a style of bob hairstyle that stops just above the shoulders.
Bob hairstyles are adored and admired for helping hair look healthier and thicker while simultaneously attract attention to the face.
Many bob hairstyles like this one are usually worn in colors like jet black, helping the cut and tilt of the hair to really stand out and achieve that shiny finish, while others pair their bob hairstyles with platinum blonde hair, ashy brown or a soft red.
Things to consider before getting a Bob hairstyle

The bob hairstyle is a great option when you want to get rid of your long hair and definitely try something different but it is true that there is a lot of maintenance involved when in comes to this hairstyle, here are some things to consider before joining into something we call "Bob Life".
First of all you have to forget the days of a casual wash and dry hair, a bob hairstyle is a very detailed cut, and it needs maintenance.
A bob hairstyle is an easy yet time-consuming hairstyle to keep up to.
You will have to perfect your waves or straighten techniques in order to give your hair a beautiful and stylish finish.
Another thing to keep in mind is that you will need to frequently cut your hair in order to maintain the shape and style of your bob hairstyle.
Unless you are comfortable with allowing your hair to grow out and try different hairstyles.
Keep in mind that trims or cuts will become a part of your routine.
We assure you that  with regular hair care, trims, heat protectant and a good flat iron, your bob will be picture perfect  at every time.

Here are another few things to consider, first of all you will have to say goodbye to elastic bands and ribbons, as your hair will be too short to pick it up in a ponytail, these accessories will be part of your past.
From the moment you get a bob hairstyle you will have to rely on the buckles, clips and pins as well as the headbands, these will be your best allies.
You have to be aware that shorter hair means that your back and often your neck will be visible to everyone, especially in the summer.
This means that you should take special care in acne and sunspots in order to prevent its appearance, use the same creams and products that you use on your face and in the rest of the body and do not forget to put on sunscreen.
The last thing we want you to consider is that not only will it change the way your hair will look but you will also have to think about a new makeup style.
As your face will be more exposed by wearing a bob hairstyle, it will not be necessary to overload it with too many colors, use clear shadows or pastels colors and try to avoid makeup with too much eyeliner.
Ideas on how to style your Bob hairstyle

The bob hairstyles combine not only cut techniques but also certain styling techniques which allow you can change and play with your hair color.
Pastel colors have become very fashionable in the current times, but also if you are more traditional you can choose to your bob hairstyle with a blonde hair color like a balayage or highlights.
You can also make your bet on bright colors like fuchsia, violet, blue or green to give your bob hairstyle a fun style.

If you have curly hair, you can also wear a bob hairstyle but you must keep in mind that this haircut needs to be done with great care and with the help of a professional hairstylist in the management of this type of hair, since it is not the same to cut straight hair than to cut curly hair.
This special haircut is made with your hair dry in order to achieve a very natural and fluid result and if you have straight hair and want to give some volume and movement to your bob hairstyle you can use you iron curler to achieve this type of look.

Many people may think that when it comes to a bob hairstyle you cannot mix it with others haircuts, but this thought is really far away from the truth. if your hair is too fine and lacks movement.
You can choose this variation of the  bob hairstyle that consist in layering the hair not only in the back part of your hair but also on the sides of your hair ,  this way you will achieve a bob hairstyle  with more movement and volume .
The pageboy hairstyle
This is a variation of the bob hairstyle for men and women.

The pageboy is a type of bob hairstyle that gets its name from what was supposed to be the classic cut of English boy children.
The hair is cut just below the ears and the tips form inverted «wings» that are not very visible.
The pageboy hairstyle was developed and popularized for women in the 1950s.
It was sold to the public of the decade as the hairstyles worn historically by English pageboys.
A good pageboy haircut was easy to maintain, and in the 1950s it was an edgy, stylish look.
The pageboy is something similar to a long bob haircut; this hairstyle is specifically designed for medium to short length hair.
Back in those days, the pageboy haircut generally stopped at shoulder-length but later there were recreations in which the hair was cut just below the ear height, where it towards the jawle, there is also a variation called a reverse pageboy, where the hair is curled outwards.
This look suits is very versatile because fits a variety of face shapes and body types.
The Mop Top 
Cnsidered to be the bob hairstyle version for men.

The Mop Top is a hybrid hairstyle of the bob, the pageboy and the bowl cut all in one that became popular in the 1960s decade during the First British Invasion thanks to rock bands like The Beatles and The Rolling Stones.
It has a characteristic helmet shape that covers the ears and, unlike the bowl cut, is usually degrafted and not uniform.
The Mop Top is considered a male version of the bob.
In order to get a good Mop Top hairstyle, the hair should be trimmed uniformly all around the head so that the hair at the front part reaches the eyebrow, while the hair on the sides covers or mostly cover the ears.
The hair at the back part of the head maintains the same length as the hair on the front part and the sides; therefore the hair on the lower back of the head touches the collarbone.
The hair on the back of the head should not pass the collarbone.
How to style a Mop Top hairstyle

If you want to rock you Mop Top look, the hair should be styled starting from top center part of the head.
From there onwards, use a comb to bring the hair down and straight like vertically to the floor so that a fringe is left on the forehead and the hair on the sides of your head cover the ears and the hair on the back is hanging down.
Hair mousse or a leave-in conditioner work good as hairstyling products when it comes to styling your Mop Top.
A blow dryer could be used , especially when you use the hair mousse ,  to give the Mop Top a bit more of volume, but be careful when using the blow dryer for too-long  period of time can make the hair stand up instead of hanging down.
In the case where your hair is wavy and you can not the way for the hair to fully hang down, then use a hair straightener and straighten your wavy hair.
Bob hairstyle for men and boys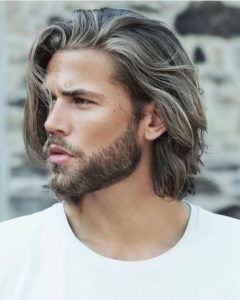 When it comes to new hairstyles men also search for the newest trends.
But, does a man prefer to wear a complicated or an easy hairstyle? We think that for the most part they choose the easy hairstyles which can also look stylish and cool.
So that's what made the bob hairstyles as popular for men as they were with women.
The bob hairstyles for men appeared on the men's hairstyles stock back in 1960s and have become very popular since then.
Since the bob hairstyles appeared they are considered to be one of the easiest and most fabulous hairstyles for men.
The bob hairstyles are very versatile because they can suit men with short, medium and long haircuts.
Those hairstyles can fit any man with any age and surely any hair color.

This particular hairstyle is so versatile that even if you are a man with an oval, round, square or any other face shape, you can surely find the perfect bob hairstyle for you. There is a huge variety of the bob hairstyles; you can say that this hairstyle can take any shape.
There are also some celebrity-named after bob hairstyles such as the Johnny Deep's famous bob hairstyle and there is also a David Bekahm's bob hairstyle.
So, as a man you have a wide amount of options and you can just pick the one which would make you feel more comfortable, confident and stylish.
Just be aware of the fact that you have to seriously take care of your bob hair and also keep your eyes on the new trends of this hairstyle, if you're totally attached to your bob haircut and you know that you never get rid of it.
Bob hairstyle trend for men in the recent years

As being one of the most popular hairstyles of all times, the bob hairstyles managed to conquer men back when they first appeared and today bob hairstyle is popular thin among not only women but also men.
The bob hairstyles made a whole movement in 2017 and this movement included some of the best celebrities' images that wore a bob haircut last year or that they used to wear it once.
A messy image with textured bob hairstyle and a beard looks really impressive especially when combined with stylish accessories like sunglasses, a scarf and etc.

Male bob haircut differs a little bit from bob hairstyles that we have previously discussed.
There are several styles of long bob hairstyles like this or just bob hairstyles in general that are popular for men.
The most frequently seen one is short bob hairstyle with layers at the back part of the hair.
Celebrities for example choose this particular hairstyle more often than any other type of bob haircut.
Bob hairstyle can be suitable for both sleek and wavy hair.
There is no need to style hair beforehand.
You can simply apply a generous amount of hair mouse and style your hair with your fingers.
If you have natural waves you bob hairstyle will definitely look more stylish. Last year (2017) bob haircut look is completed with center parting.
Untidy hair with center parting will frame face and make features look a little bit more proportionate. If center parting is not suitable for your face shape you can simply comb your hair backwards or part it to the side.
Asian Bob hairstyles for women and girls  

This one is considered to be the classic Asian bob hairstyle; this particular bob haircut is very cool and energizing to wear.
This look accentuates the voluminous hair which most Asian women have and also they have an advantage which is their characteristic soft straight hair that is fittingly good for a bob hairstyle.
The soft flowing bangs gently touch the forehead bringing out the innocent yet so very popular Asian look which is very feminine and attractive. You will definitely love to make you bet on this awesome bob hairstyle.

This is what we call a messy asymmetrical Asian bob hairstyle; this one is definitely a nice and easy way of styling an Asian hair.
The messy hair in combination with asymmetrical bob haircut brings out a fun look which is very attractive and charming.
Likewise, the interesting and modest appeal of this hairstyle is perfectly suited to an Asian girl.
You will surely like to try this very inviting Asian bob hairstyle every once in a while.

This is a fabulous and interesting Asian bob hairstyle with the black hair color and soft bangs covering the forehead, it almost seems as a combination between the bowl cut and the bob hairstyle.
It is amazingly enchanting and captivating. Furthermore, this messy hairstyle brings out the mysterious look of Asian girls and women.
This hairstyle is delightful to look at and very engaging to wear.
You will absolutely love to wear this very interesting hairstyle.

This awesome Asian bob hairstyle is definitely very charming and lovely to be worn.
The soft, sleek, and shiny hair of Asian women and girls surely fits this kind of hairstyle.
The hair naturally flows downwards just right above the shoulder height, while the bangs and side hair clearly outline the contour the face.
This very delightful hairstyle is very appealing and teasing to look at.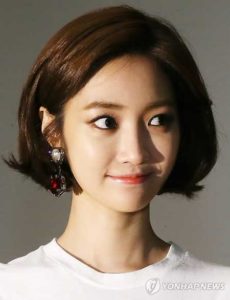 This soft Asian bob hairstyle is cool and refreshing to look at, perfect for summer time.
The voluminous hair which goes down right to the height of the nape create a very cute, yet appealing look, which is typical of Asian girls.
Also, the soft-center parted hair gives a fresh and enchanting look at your face.
Moreover, the fly-away fringes create a minimal contrast which makes this hairstyle quite lovely and interesting to look at.

This Asian bob hairstyle is very lovely and attractive.
Look at combination of the bob hairstyle with the soft red hair which is gently flowing right to the jawline, it is definitely awesome and charming to look at.
Pleasing and enchanting, this bob hairstyle surely fits the Asian hair which is soft and straight but giving it that extra touch with the red color.

Casual and refreshing, this short messy Asian bob hairstyle is really drags the attention to it.
The messy hair creates a very cool and natural look which is quite awesome to look at.
This hairstyle really fits the Asian hair and skin.
It gives you intriguing, and interesting look which is seductively and charming, very suitable for the summer.
Thank you so much for reading this article, and we hope you enjoyed these bob hairstyles as much as we did. If you liked it, make sure to share it with your family to make them have a good time remembering and your friends so they don't miss out on these incredible looks and can try out some of them.
¡Por cierto! Antes de que te vayas, queremos recomendarte esto que seguro que te interesa:
Son una serie de contenidos a parte del que has leído que puede ser interesante para tí ¡Muchas gracias por leernos!